Win ProjectSAM's Symphobia 2!
Thursday, December 2, 2010
When ProjectSAM announced the release of Symphobia 2 back in August this year, it was met with much excited anticipation by those composers who had been using the original Symphobia since its release two years previously.
Having been dubbed 'truly outstanding' and 'genuinely inspirational', Symphobia provided all the wild rips and improves, combined strings and brass unisons, tutti hits, mad effects, dreamy and percussive sound design textures needed to score any on-screen event from a minor traffic collision to the destruction of the universe. For many composers, it was difficult to imagine needing anything else in their orchestral palette!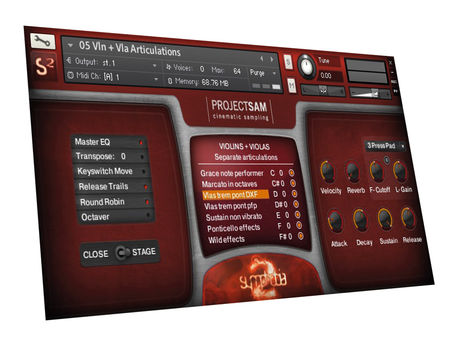 And then along came the announcement of Symphobia 2 – and the question 'What more could it possibly contain?!'
Symphobia 2 sees the strings having been extended to include new spiccatos, major and minor trills, plus long and short expressive notes and crescendos. The horns, too, have been enlarged and now feature eight players. New sustains and staccatos have also been added to the full orchestra section, as has a meaty 'wide octave' articulation. More cinematic effects, a cleverly constructed range of multis and, last but not least, a new 'Dystopia' section – ProjectSAM's dark side which features hits, spheres, scapes and risers created by processing and tweaking the Symphobia recordings.
The instrument has recently received its first wave of reviews with words such as 'magnificent', 'an absolute joy' 'unsurpassed' and 'a score writer's dream' frequenting the pages of the UK audio production magazines. Hmm, surely that's an excuse for a celebratory competition? Luckily, the generous people at ProjectSAM agree and have given us a copy of Symphobia 2 to giveaway in our December competition!
To enter, all you need to do is email us the answer to this very simple question…
What is the name of the section within Symphobia 2 that is described as ProjectSAM's ´dark side´?
E-mail your answer to news@timespace.com with ´Symphobia Comp´ in the subject. Alternatively just use this email link and enter your answer.
Competition closes 15th January 2011 and the lucky winner will be announced shortly after this date. Good luck!
Click here to find out more about Symphobia 2
Terms & Conditions
By entering the competition your email address will automatically be added to our database to receive news of new releases and offers from Time+Space. To opt-out of this, please include the word ´No´ in your message when emailing your entry.