Red Room Audio Gypsy Fiddle is the third instalment of the popular Traveler Series – a growing collection of boutique sample libraries for Kontakt featuring traditional world instruments faithfully recorded on location from destinations around the globe.

Gypsy fiddle playing is known the world over for its passion, romance and virtuosity and the music is synonymous with the campfire and the open road. Gypsy fiddlers tend to be highly skilled. Their playing swoops dramatically from the highest to the lowest positions, using cascades of arpeggios, chromatic runs, harmonics, pizzicato, exaggerated vibrato and extreme ornamentation.

Already own a Red Room Audio fiddle title? You can get £/$/€10 off Gypsy Fiddle!

Use code RRAFIDDLES10 when you checkout - this code will also work on the other Fiddle titles! Didn't buy from Time+Space? No problem! Please email websales@timespace.com with proof of purchase.
To record Gypsy Fiddle, the Red Room Audio team traveled to Sofia, Bulgaria where they had the pleasure of working with renowned violinist Stoimen Peev. Stoimen is a member of the elite Sofia Soloists and Sofia Quartet ensembles as well as the Sofia Session Orchestra & Choir and has performed classical and traditional Bulgarian music all over the world. Their lively sessions were superbly directed by co-producer George Strezov and engineer Ivan Boshev at "The Bakery" studios in Sofia.
The Traveler Series
Welcome to Red Room Audio's Traveler Series, an ongoing collection of boutique sample libraries featuring traditional world instruments faithfully recorded on location from destinations around the globe.
Traveler Series libraries focus on delivering a genuine purity that can only be captured where the instrument and musical style originated, preserving its true character and history.
Red Room Audio sought out a region's most skilled and renowned performers; amazing folks with stories and bloodlines who live and breathe traditional provincial music. Red Room Audio leave with education and appreciation for their culture and the role these beautiful instruments serve (as well as a tale or two of our own). Red Room Audio hope their Traveler Series adds an authentic native spirit to your music.
GUI
The Traveler Series Kontakt instruments feature a clean and simple, 1-page GUI with all the controls you need to get the most out of the library, including our TACT (Total Articulation Control Technology) and an 8-slot FX rack.
Articulations panel
Dynamics, Width and Timbre controls
4 performance modes
Rebowing & Open Notes controls
Scale Lock
TACT (Total Articulation Control Technology)
8-slot FX rack11 categories of FX
Waveform display
Per sample controls for volume & tuning
Start & End sliders to adjust sample length
Speed controls
MIDI input quantization controls
8-slot FX rack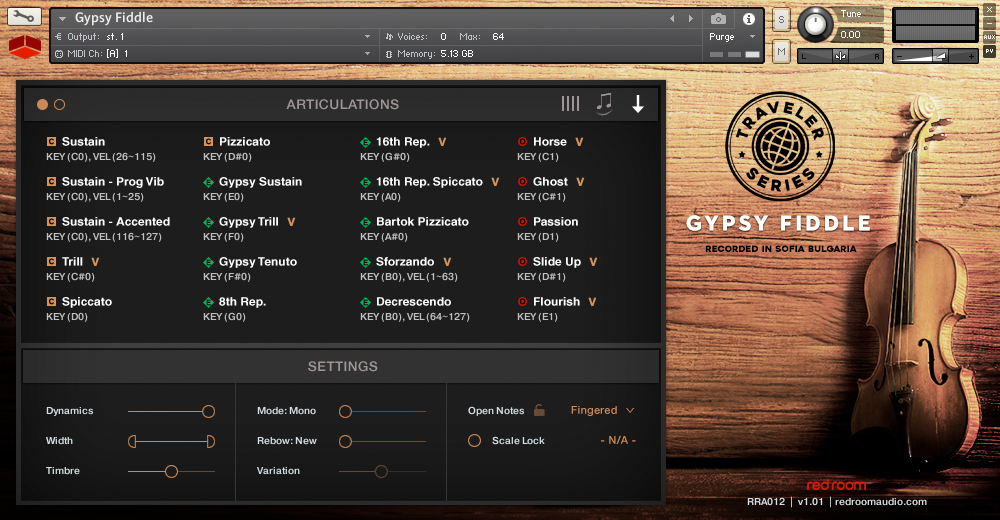 Gypsy Fiddle Key Features
Deep-sampled Gypsy fiddle recorded in Sofia, Bulgaria by violinist Stoimen Peev
Playable multi-sampled instrument
20 standard & extended articulations
15 traditional Gypsy ornaments
Over 650 Phrases & FX including hundreds of free-form improvisations
2 types of sampled legato
4 performance modes including customizable Double Stops
Scale Lock feature automatically selects ornament intervals in the key of your song
TACT (Total Articulation Control Technology)
8-slot FX rack
Modern, easy to use, feature-packed GUI
Watermarked for copy protection
4.4 GB of content / 10,562 samples (24 bit/44.1 kHz NCW)
Articulations
CORE & EXTENDED ARTICULATIONS
Sustain
Sustain – Prog Vib
Sustain – Accented
Legato
Portamento
Trill (minor, major)
Spiccato
Pizzicato
Gypsy Sustain
Gypsy Trill (minor, major)
Gypsy Tenuto
8th Rep.
16th Rep. (normal, 2x)
16th Rep. Spiccato (normal, 2x)
Bartok Pizzicato
Sforzando (2 lengths)
Decrescendo
ORNAMENTS
Horse (2 variations)
Ghost (up & down)
Passion
Slide Up (minor, major, long)
Flourish (2 variations)
Czardas
Pull Off
Hammer On
Triplet
Crescendo Release
PHRASES & FX
FX – Percussive
FX – Chops
FX – Fiddler Whistles
FX – Fiddler Shouts
FX – String Noise
FX – Scrapes
Energetic Improvs
Lyrical Improvs
Polyphonic Improvs
Romani Improvs
Runs & Arpeggios